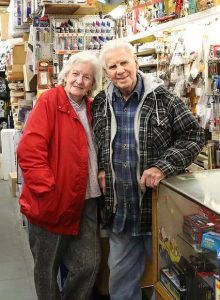 Welcome to Staten Island RC Modelers (S.I.R.C.M.). Founded in 1973 in Staten Island, New York. Club members and visitors enjoy the company of fellow modelers and enjoy an age old hobby at its finest. Visit us at our flying field to speak with us about our club. "Visit Here"
Staten Island RC Modelers has dedicated its flying field in memory of founding members George and Mary Brown. The Staten Island RC Modelers held a ceremony on April 22, 2017 to honor the late George and Mary Brown.
The plaque, presented to their son, John Brown, read,
"Brownie's Field, This flying field is dedicated to the memory of George and Mary Brown in appreciation of their devotion, commitment, and friendship to the club members of Staten Island R.C. Modelers."
John said, George and Mary helped start the club in 1973 and George helped countless people learn to fly and many later became instructors.  This legacy continues today.